The Northern Bullants played their first competitive hit out for season 2021 in the form of a practice match against the Casey Demons on Saturday.
And while they fell 57 points short, there was still plenty for the Bullants coaching staff to take away from the trip to Casey Fields.
Played in windy conditions and against a Demons line up boasting the likes of Jack Viney, Jake Melksham, Michael Hibberd and Majak Daw, the Bullants more than held their own in general play but were unable to make it register on the scoreboard.
"As a coaching group, we came down with a mindset that we wanted to see some of the things we've been training and giving a lot of players an opportunity that we wouldn't otherwise be able to see in a hit out against an opposition because we have still got some decisions to make on our list," coach Josh Fraser said post-match.
"There's a competitiveness that we've been training, and that we've seen in the group.
"We're actually walking away reasonably pleased with the things that we saw and can keep growing.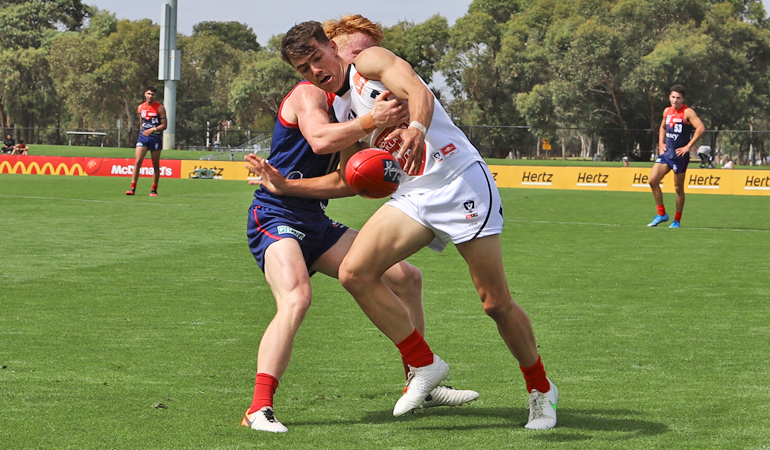 Dylan Stone gets his kick away.
"We are going to be a side that is always looking to improve so that's going to be, in some ways, the way we approach each week where regardless of the result, we want to find those areas of the game that we're going to keep improving and also with certain individuals as well."
The Bullants line up boasted several of its new signings, including Paul Ahern (North Melbourne), Liam Mackie (Box Hill) and Billy Murphy (Box Hill), and could not be faulted for the way it attacked the contest.
"It's always a challenge coming out here. Casey train here and play the ground so well, but that's great learning for our boys and I thought at different stages during the game that we certainly matched things with them," Fraser continued.
"We probably just lacked going inside 50 at times, and some of our connection, and they certainly made us pay with some of their AFL-experienced players.
"But again, we are really optimistic about the growth the group's got in them and the way they are approaching their footy and their mindset to get better.
"We're looking forward to the next chance to train the way we want to play, and then on Thursday night against Frankston."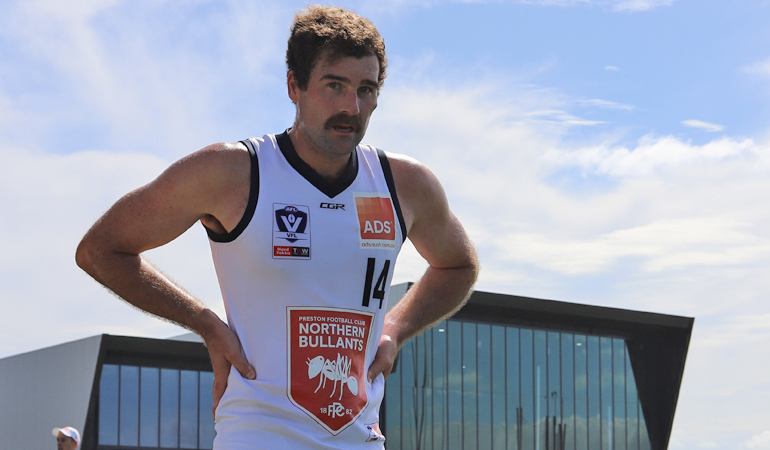 Kieran Collins takes a breather.
With the first rounds of the home and away season now confirmed, the Bullants finally have a set of dates to work towards as they mark their return as a stand-alone club in the revamped VFL competition.
But as well as building a football team, they are also building a club, as Fraser reinforced after the match.
"It's always different when you're training against each other and playing intra-clubs to when you get out and play an opposition, so it was a completely different experience for us as a club.
"We've got a starting point now – we've got something to review and some focus areas to take into our next game.
"I couldn't be more complimentary about the way the players have gone about things, and the staff as well. We're building a footy club, so that's the reality of where we're at and we have to keep looking for the little wins."
The Bullants will get their next chance to test their summer's work with a practice match against Frankston on Thursday evening. The match details are still to be confirmed.
Northern Bullants    0.0  1.2   2.3      2.3 (15)
Casey Demons         3.4   4.6   8.7   10.12 (72)
It's official 🔒

We're coming back home against an old rival in round one.

18 April cannot come around quickly enough.

Make sure you're there! Become a member + #JoinTheMarch today – https://t.co/agniJmfAfA pic.twitter.com/Sk1I5R9KID

— Northern Bullants FC (@NBullantsFC) March 18, 2021