The Northern Bullants will proudly wear the ADS Australia logo on the club's jumper when it returns to the VFL competition in 2021.
ADS Australia has joined the club as its first major partner, and its branding will be visible to all members and supporters across the team's apparel as well as at Preston City Oval.
It marks a strong show of support for the club's rebirth from an organisation based in the heart of Melbourne's northern suburbs.
"It is fantastic to have ADS on board as our first major partner in our return as the Northern Bullants," club President Stephen Papal said.
"The team will look after a lot of our print media and signage and help beautify Preston City Oval with sponsor signage.
"We are looking forward to a great partnership. Dean Wright, Armando Scalzo and their team have been fantastic. We have a great relationship, and they will be a key part of our team."
ADS Australia Managing Director Dean Wright is pleased to be supporting both the local club and community through the partnership.
"Supporting the local footy club is something I wanted to do," Mr. Wright explained.
Got your 2021 membership yet?

If not, take a look. There's something for everyone #JoinTheMarch https://t.co/QDgE6cBcys

— Northern Bullants FC (@NBullantsFC) February 18, 2021
"It is something new for the business, and helping the community and being involved in these times is something I wanted to do, to give back to the local people.
"After becoming their own standalone club, I think it's a really good thing. The Bullants can stand on their own two feet now, having their own identity the way it used to be."
Are you or your business interested in joining ADS Australia as a proud partner of the Northern Bullants? Contact [email protected] today to find out how you can be involved in our rebirth in season 2021 and beyond.
About ADS Australia
Since 2001, ADS Australia has been working toward becoming the best print company in Australia. From sales and print management, to digital wide format printing, to packing and distribution, the ADS Australia team has your needs covered, all the while using the latest technology. Contact the team today on (03) 9464 7251 or email [email protected].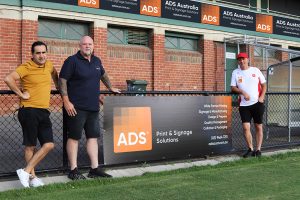 Armando Scalzo, Dean Wright and Stephen Papal proudly display the new ADS Australia signage at Preston City Oval.