Jack Boyd takes to the skies to hold one of the Marks of the Year. Photo: Nathan McNeill (Nathan William Media).
Article: By Daniel Kelly.
A fast-finishing Bullants side left themselves too much work to do and were defeated by the Frankston Dolphins at Skybus Stadium in a game played under lights, but without fans due to COVID-19 restrictions.
The Dolphins were a class above for most of the evening. The Bullants did respond to coach Josh Fraser's three-quarter time urging to show some pride and provided some respectability on the scoreboard, kicking five goals to one in the final quarter, but still lost 13.15 (93) to 10.5 (65).
In that final quarter, the Bullants showed, not for the first time this season, the potential that exists within this group. It will be Fraser's challenge to shape those glimpses of what might be into a consistency which yields the results it deserves.
Captain Tom Wilson was close to being best afield for both sides and was the only Bullant to put together a four-quarter performance, which goes a long way to explaining the Preston side's defeat. Wilson amassed 34 possessions, 27 of them kicks, and laid six tackles, in greasy conditions.
Jack Boyd had a first quarter to remember, kicking two goals and taking a VFL mark of the year contender. He must have known he would be in for a unique evening when he received a free kick in the goal square before the ball was even bounced to start the game.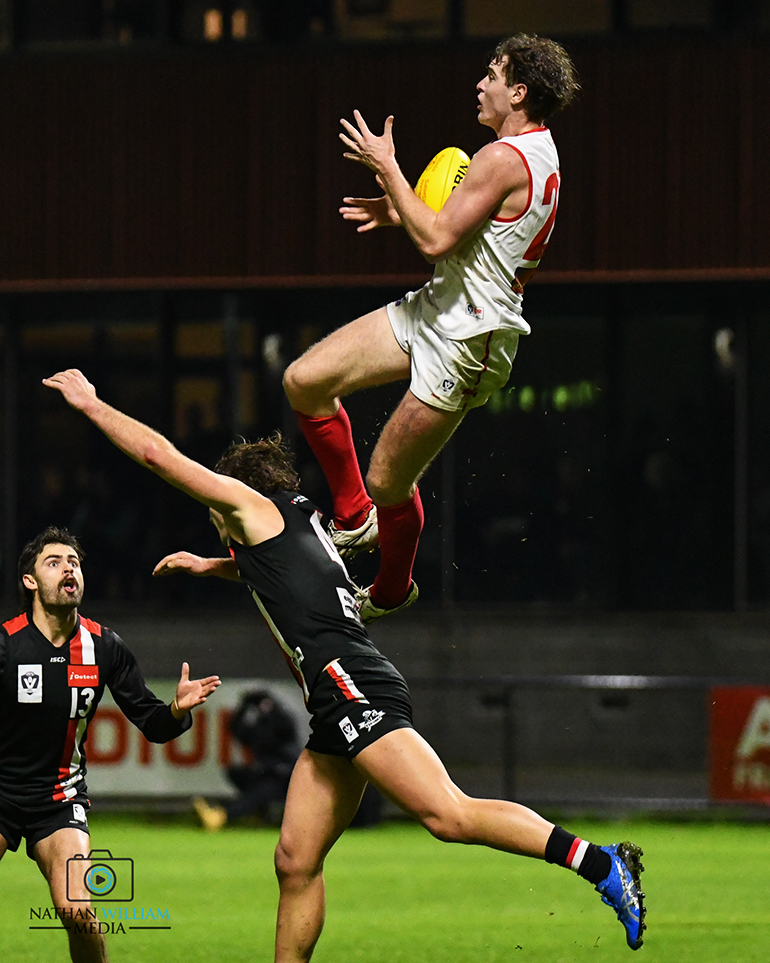 Jack Boyd's screamer was perfectly captured by Bullants' photographer Nathan McNeill of Nathan William Media.
Nathan Honey, elevated from Heidelberg to the VFL for the first time, played a large role in the Bullants' charge home in the final quarter kicking two goals in four minutes. Jean-Luc Velissaris bookended Honey's goals with two of own in the last and Harrison Kennedy also kicked pair of second half goals.
Sunny Brazier, on debut as well, caught the eye in a confident display which suggests he will survive and thrive at this level.
On a night without spectators when the slap of wet bodies, the thump of kicks and the shouts of coaches and players were the only sounds, it was often Brazier's voice who was heard demanding the ball and telling his teammates when they were clear.
Most importantly, he didn't just talk the talk, he walked the walk too – 13 kicks, three handpasses, a goal and led every coach's favourite category of tackles with a team high of seven.
Despite some individual highlights, it was another team loss for the Bullants. The intensity shown in the final quarter must give coach Josh Fraser some heart that the quality is there, but it was buried under the concerns of the inability to provide an even performance.
"Frustrated with a game as whole," Fraser said post-match.
"If you look at the final quarter, we outscored them five goals to one, but probably more pleasingly we won some of the key indicators of the game around the contest. We played the way we set the game up to play, but we were inconsistent in the first three quarters with that."
Fraser felt it was executing the basics which led to the Bullants having too much to do in the final quarter.
"Credit to Frankston. The game is a simple game in many respects, it revolves around the contest and the willingness to get in there and win the footy, and be really proactive, and they had the edge on us for that part of the game."
In addition to acknowledging Tom Wilson's virtuoso performance, Fraser saw signs of encouragement from the Bullants younger brigade.
"I thought some of our young defenders, Mutaz El Nour and Kye Quirk, stood up really well," he said.
"I thought Sunny Brazier, for his first game for the year, was terrific."
While those glimmers of light give hope, the challenge for Fraser and his staff is to harness the elusiveness of potential and transition it into an even performance.
"There was some really encouraging stuff from individuals, but we're too inconsistent as a team. We're probably going through some growing pains at the moment and we've just got to be better, and we'll keep challenging the boys and working through it."
"It is frustrating, we do see enough that we like, but we don't see it often enough."
Mark of the year?@NBullantsFC Jack Boyd with a screamer!!

— #VFL / #VFLW (@VFL) June 19, 2021
So, how does Fraser build consistency on the training track, outside the white-hot heat of a competitive match?
"We keep educating and training on our game plan and game style which, again, they've shown some really good growth in. But it is our ability to be consistent and then, when we are challenged by the opposition, be able to stand up and get the game back on our terms."
Training during lockdown called for a pivot on short notice, but that wasn't a reason for the loss.
"The boys were terrific. They had their individual programs to tick off on, but we thought as a coaching group that it would be a good chance for them to freshen up, so we didn't want to overload them with too much. We did some leadership stuff via Zoom with the leaders and made sure everyone was checking in on each other."
It's clear that Fraser's theme for the evening was that losing in the contest, so fundamental on a soaked oval, would inevitably lead to defeat. Thirty-six clearances for the Bullants compared to 52 for the Dolphins proved that.
The Bullants struggled to gain first use of the ball and won just under half the hitouts – 27 compared to 55. That final total actually looked more positive than it did up until three quarter time when Frankston was winning three out of every four ruck duels.
While clearances are a critical metric, the Bullants held their own in most other categories except for handballs (-31), indicating Frankston's ability to clear congestion through handballs.
Also notable during the first three quarters was the Bullants inability to maintain momentum. Three of their five goals to three quarter time were answered with a major by the Dolphins within around two minutes.
Meet Jack Boyd, the uni student who took a hanger as good as any taken this season #VFL @rpjward https://t.co/T48a0YGfMD

— Real Footy (AFL) (@agerealfooty) June 19, 2021
With Frankston kicking the last three goals of the third quarter, and the Bullants trailing by fifty points, tensions boiled over as the siren sounded, with sides needing to be separated as they went to their respective huddles, although they continued to chunter at each other from a distance.
Fraser seized on this moment and asked his side what they wanted to stand for. In his view, they had two options.
They could go quietly into the night, take nothing out of this game and have the verbals from the opposition echoing in their heads on the drive home.
Or, they could choose to stand and fight, create a foothold for the next match, and remind Frankston that they were in a game tonight, regardless of the scoreboard.
It's clear which option the players chose.
With a restructured, open forward line, designed for their runners to run on to deep balls over the backs of the opposition, the Bullants shocked the Dolphins with four goals in the first nine minutes of the final term.
Both Jean-Luc Velissaris and Nathan Honey benefitted from a renewed commitment at the contest and kicked a pair each.
It took until 14 mins into the quarter for the Dolphins to regain the balance of play and kick a steadying goal, to firmly put the game to bed.
In those 14 minutes, it was clear what is possible from this group.
However, potential is like a mirage. You never quite know if it is an illusion until you get to run it through your fingers, drink from its source or see the notches accumulate in the win column.
There is clearly something shimmering on the horizon though, and it is up to Fraser and his staff to plot a path across hostile territory to grasp it.
Northern Bullants 10.5 (65) def. by Frankston 13.15 (93)
Goals – Northern Bullants: Boyd 2, Honey 2, Kennedy 2, Velissaris 2, Brazier, King
Disposals – Northern Bullants: Wilson 34, King 19, Boyd 16, Brazier 16, Strachan 16
At SkyBus Stadium, Frankston.
Watch Jack Boyd soar to the skies against Frankston, thanks to @nwmsports1 📷 #JoinTheMarch pic.twitter.com/w6KWZp9vEv

— Northern Bullants FC (@NBullantsFC) June 19, 2021